---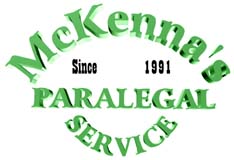 Welcome to the McKenna's Documents
Enjoy your visit
---
We have a wide range of services including, but not limited to,
guardianships, conservatorships, wills, powers of attorney, contracts, restraining orders, and civil litigation.
We specialize in emergency situations.

For more information about any of our services, please call

Lompoc: 805-735-4533

Santa Maria: 805-614-4533

or e-mail us at mckennas.documents@yahoo.com

McKenna's Documents:


Lompoc:

711 East Ocean Avenue
Lompoc, California 93436

Santa Maria:

425 South Broadway

Santa Maria, CA 93454

your self-help professionals



164543HITS!...and counting.