---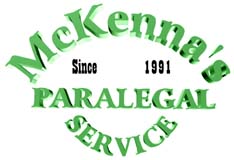 Welcome to McKenna's Documents'
Living Trust Page






---
MENU


The truth about Probate Living Trust Research Links


The truth about Probate:

Most people don%u2019t realize it, but if you die and leave a will, you are leaving your estate wide open for all sorts of problems. You might say, %u201CBut, wait, I thought that having a will is better than having no will at all.%u201D True, but it%u2019s not much better. A will simply tells how you want your estate distributed, and by whom. If you die intestate (without a will), state law determines the distribution of your estate, which distribution is probably what you would put in your will anyway. However, the real problem is the probate system, especially in California.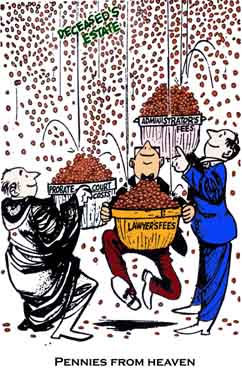 If your family is one of the unfortunate ones who have to suffer through probate, they can expect lengthy court actions, publicity (embarassment for the heirs), high fees, and high stress. Probate can take years! In some states, the lawyers have so much control over the legal system that they are allowed to charge a percentage of your estate, just to give your property to your heirs. A percentage! Isn%u2019t this crazy? But it%u2019s true! There are usually minimum fees set by statute, but there are no maximum fees. Usually, the fees are based on the gross value of your estate, not the net value. This means that loans against your estate are not deducted to figure out lawyers%u2019 fees. Sometimes the fees can be as much as 50% in small estates, to as low as 6% in large estates. It all depends. It%u2019s like taking your chances at gambling. Whatever happened to getting a day%u2019s pay for a day worked?

There is a way out of the probate mess! Many people are now getting Living Trusts, to avoid probate. A Living Trust is an entity similar to a corporation%u2014it lives on, past your death. A trustee (you) controls the trust, and a settlor or trustor (you again) owns the trust property. When the trustee dies, the successor trustee takes over. While you are living, you would remain able to do whatever you want with your property. When you die, there will be no need for probate. No need for lawyers. No need to pay high fees. Also, there are no long delays. McKenna%u2019s Paralegal Service has an excellent Living Trust package. We not only give you a Living Trust, we give you durable powers of attorney (financial and health care), an abstract of trust, a pour-over will, a living will, a schedule of assets, funeral last wishes, death certificate information sheet, and a handsome three ring binder to keep it in. Most importantly, we help you transfer property into your trust. Lawyers charge thousands of dollars for the same service. We only charge $585 to $702for most estates. We are able to do this because, like all others in the legal profession, we use legal manuals and software to guide you through the whole process. We prepare the documents according to your satisfaction.

McKenna%u2019s Paralegal Service cannot give legal advice, for only attorneys are allowed to do so. However, we have provided an exhaustive list of links for our customers to do research on their own, and to make intelligent decisions. Most of our customers have routine cases. If you do need an attorney, because your estate may be more complex than average, we can refer you to a great attorney.

There is no law in any state that requires people to hire a lawyer, and most Living Trusts do not require a lawyer. McKenna%u2019s Paralegal Service has assisted hundreds of customers with Living Trusts, in the 19 years we have been in business, and we have hundreds of satisfied customers and heirs.

Living Trust Research Links:


Back to McKenna's Paralegal Service's Home Page